Welcome to the RuneScape Roleplay Wiki! The wiki devoted to Runescape's Roleplaying community on World 42.
Real World Date: 20 July 2017.

Standard Gielinorian Date:
20 Fentuary, Year 5, Sixth Age.
 Community Events 
Upcoming:

None. Keep checking in for updates.

Recent: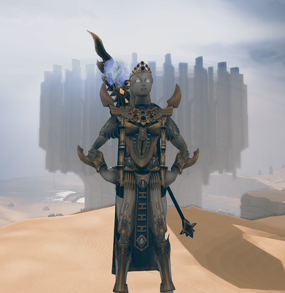 Maedalaane Naeurione is an engimatic individual of far flung and undisclosed origin and is the namesake of the user who plays them. They are powerful to the point of rumors being abound that they are a deity, but no efforts have been made to confirm or deny. Said rumors borne of incredible feats of magic, yet a refusal to ever apply it toward violence to the extreme of virtually never retaliating even when assailed (and subsequent and inexplicable survival). With as knowledgeable and well acquainted with the world as they are there is no doubt they've seen much and done even more but personal history is rarely, if ever, shared.
"
A flick of a wrist can careen a castle. A clench of a fist can hemorrhage brains. A wag of a finger can command the multitudes to come forth. What good is it? What good is progress if it is not born of free will? If you violate that in the name of advancement and when it's all "perfect" and "just" and "fair", when you have finally got it exactly the way you want it...who so ever do you lord over? The hearts and minds of a world you cared about? Or thoughtless husks half-baked into your image stumbling upon desecrated land corrupted with your avarice? Their will no longer their own but your own will forced upon them, dictating all they do. You will only rule yourself and one terrible night you will find that you are alone.
"
Official RSRP Wiki Discord
If you see this, your JavaScript might be disabled or DiscordIntegrator plugin isn't working. If the latter, please contact a wiki administrator.


Ad blocker interference detected!
Wikia is a free-to-use site that makes money from advertising. We have a modified experience for viewers using ad blockers

Wikia is not accessible if you've made further modifications. Remove the custom ad blocker rule(s) and the page will load as expected.